AHA Publishes Humanist Curriculum Manuals for Children and Adults
We've Moved! Please visit TheHumanist.com for current humanist news & analysis, or browse our archices below.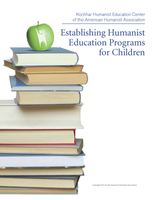 By Bob Bhaerman
The Kochhar Humanist Education Center of the American Humanist Association was established in 2008. The Center's goal is to educate humanists and the general public about the values and principles of humanism as related to culture, philosophy, history, policy, and religion. Our focus is on compiling curricula and lesson plans for educators to use for humanist education programs. Such resources aim to create understanding and build knowledge about humanism, and encourage scientific thinking, humanist values, and activism toward justice.
At the recent American Humanist Association conference, the Kochhar Humanist Education Center announced the publication of two new resources, Establishing Humanist Education Programs for Children and Establishing Humanist Education Programs for Adults. The two manuals—completed after two years of research, compilation of existing humanist curricula, and the development of new curricula—were made available to chapter leaders who attended the session and will be sent to all AHA chapters.
Our goal is to organize educational programs for children and establish both formal and informal adult programs in all AHA chapters. This session at the conference was a first step for local chapter leaders to begin organizing humanist education programs for children and adults for their own chapters.
Two chapters, the Humanists of Greater Portland and the Humanist Society of New Mexico in Albuquerque, serve as models for establishing children's programs and include recommendations and challenges to address.
This session allowed for leaders of other humanist programs to report on their progress. I provided a report by Carol Wintermute, co-dean of The Humanist Institute (a graduate level education program for humanists, now an affiliate of the American Humanist Association), which included her perspectives on laying the foundation for adult education. Kristin Wintermute, executive director of The Humanist Institute, also shared information about educational programs from The Humanist Institute. Finally, John Shook, director of education at the Center for Inquiry, reported on adult educational programs offered by CFI.
I ended the session by asking the attendees to let me know what the Kochhar Humanist Education Center can do to assist chapters in these two areas – children's programs and adult programs. I'd like AHA chapters who are starting new children or adult programs to send periodic reports on their activities so that we can learn from them and share with other chapters.
When you receive the KHEC manuals in just a few weeks, please share your feedback. I can be contacted at bbhaerman@americanhumanist.org. For more information about other initiatives of the Kochhar Humanist Education Center—including how to join the Humanist Teacher Corps—please visit www.americanhumanist.org/khec.
Bob Bhaerman, Ed.D, is the director of the Kochhar Humanist Education Center of the American Humanist Association.